Claim: The HSUS conducts raids on breeders and puppy mills.
Claim: The HSUS serves warrants on suspected puppy mills.
Claim: The HSUS illegally confiscates animals.
Claim: The HSUS kicks down doors.
Claim: The HSUS conducts raids on breeders and puppy mills.
Claim: The HSUS dumps rescued animals on shelters.
Status: False.
In addition to relief operations following a natural disaster, the Humane Society of the United States rescues thousands of suffering animals from puppy mills, hoarders, and abusers each year.
Animal abusers and their defenders portray these rescues as lurid tales of HSUS commandos kicking in the doors of innocent families and stealing their pets. Here's a quote from HumaneWatch's April 3rd blog entry, which recapitulates that fiction in one succinct lie:
They swoop in, raid someone's home, and fly off as fast as they came — often leaving underfunded local rescue groups to clean up their mess.
That's entirely false.
Whether it's a hoarder in denial of his or her condition, or a puppy miller trying to escape jail time, the owners of seized animals invariably lash out and blame the intervening agencies. And with HSUS rescuers working feverishly to rescue, treat, and transport the animals, they are undoubtedly the most visible target.
But are they responsible for the seizure?
No. HSUS does not make the decision to raid a suspected abuser's property, nor do they obtain or serve warrants. In most jurisdictions, only a court of law can authorize the seizure of animals, and only law enforcement has the authority to carry out that seizure.
Law enforcement officers may request HSUS' assistance in the collection, handling, assessment, treatment, transport, and initial placement of the animals. HSUS then works with law enforcement, shelter volunteers, and other animal welfare organizations to rescue the animals.
Despite the claims of animal abusers and their sympathizers, seizures are never conducted without the direction and supervision of law enforcement officers.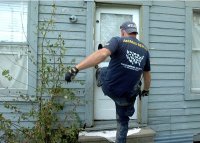 What about that picture of Scotlund Haisley kicking in the door?
This image was taken during HSUS disaster relief operations in Texas following Hurricane Ike, in 2008. When owners asked HSUS to rescue pets that had been left behind in the evacuation, the team often had to enter through locked windows and doors. This photo is from a disaster rescue, not a raid.
Does HSUS "dump" animals on shelters and rescues?
Of course not. No shelter has ever been forced to accept animals from HSUS field rescues, nor would HSUS have a hypothetical means of forcing them to do so. Animal placement is always a voluntary, cooperative effort between HSUS and shelters.
When HSUS is called to assist on a rescue, staff and volunteers immediately spring into action, calling shelters and rescues to find temporary placement for as many of the animals as possible. This is always done with the voluntary cooperation of those shelters that can accommodate the special needs of those particular animals, and have the capacity to house and care for them.
Rescuing animals from misery and suffering is a noble act, and the dedicated staff and volunteers who make it possible deserve our highest praise.
However, those despicable few who would malign a selfless act and try to portray it as something sinister deserve our scorn and disgust.
You can watch compelling video of the HSUS in action during the rescue of 150 cats from a hoarder, a Tennessee puppy mill raid, and disaster relief in the wake of Hurricane Ike.
Or, read a shelter's perspective in an interview with Pam McAlwee of Lost Dog and Cat Rescue Foundation.
Return to Myths and Misconceptions.