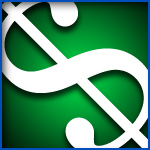 Richard Berman is a corporate lobbyist and PR marketer who makes a living defending the worst corporate abuses. Through his public relations firm, Berman & Company, Inc. — a for-profit company that apparently has no other purpose than to operate Berman's various faux nonprofits — Berman wages war against legitimate charities, public interest groups, and the facts.
Richard Berman has created more than one hundred deceptive astroturf groups, websites, and "nonprofit" organizations that funnel millions of dollars in tax-exempt corporate donations into his for-profit PR firm — and from there, into his personal bank accounts.
Berman's websites are frequently cited in the same breath, as if they were independent sources. That's a flagrant attempt to deceive the public into thinking that unsupported claims are confirmed by independent sources. In fact, these websites are just sockpuppets for Richard Berman's astroturfing enterprise.
The following is a list of astroturf ventures run by Richard Berman. Some have been retired, such as Trans-FatFacts.com, which failed to convince the public that trans-fats are full of cancer-fighting healthiness. Others, like the state-specific anti-union websites, are apparently parked and waiting for an appropriate venue to launch.
Organizations
Berman & Company, Inc.
Center for Organizational Research and Education
Center for Consumer Freedom
Center for Accountability in Science
Environmental Policy Alliance
HumaneWatch
ActivistCash
Humane Society for Shelter Pets
American Beverage Institute
Employment Policies Institute
Center for Union Facts
Employee Freedom Action Committee
First Jobs Institute
Center for Economic and Entrepreneurial Literacy
Miscellaneous
---
Berman & Company, Inc. (BCI)
doing business as: "A/B/See Marketing Research"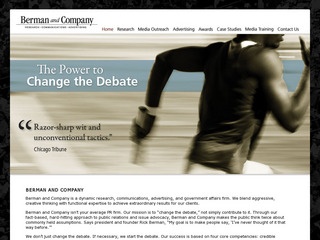 As a for-profit PR firm, Berman & Company has no public transparency or accountability. BCI maintains all of Berman's astroturf groups, and pays its 30+ employees from funds diverted from "nonprofit" donations to those groups.
BCI recently opened a new website under the name A/B/See Marketing Research. Its purpose is to conduct biased online surveys which are then used as "supporting evidence" for whatever issue they are trying to promote.
BermanAndCompany.com
BermanCo.com
A-B-See.org
HumaneSurvey.com
BermanFacts.com
PolicyAlliance.org
---
Center for Consumer Freedom (CCF)
also doing business as: HumaneWatch, Center for Organizational Research and Education, Environmental Policy Alliance, Center for Accountability in Science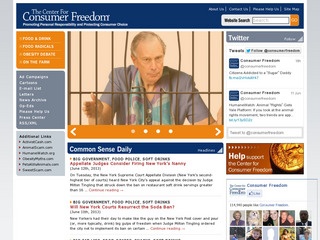 The Center for Consumer Freedom is Berman's flagship group. Originally formed as the "Guest Choice Network", a front group for the tobacco industry, CCF was started with $600,000 in seed money from Philip Morris.
CCF masquerades as a libertarian organization, supposedly defending the rights of Americans from "unnecessary regulation". Its goal is to discredit organizations that expose dangerous, unhealthy, unsafe, or inhumane practices by reframing those issues as "unnecessary regulation" from a "nanny state" government and "extremist animal rights groups".
CCF is Berman's main point of contact with the media, and acts as a sockpuppet to support claims made on Berman's other websites.
ConsumerFreedom.com
HumaneWatch.org (attacks HSUS)
HelpPetShelters.com (attacks HSUS)
EnvironmentalPolicyAlliance.org
CoreProjects.com
AccountableScience.com
EPAFacts.com
LEEDExposed.com
GreenDecoys.com (attacks environmental and legitimate conservation groups)
BigGreenRadicals.com
ConservationHunting.com (claims to be "provided by conservationists, outdoorsmen, and ranchers")
HandsOffMyBacon.com
TheFoodFiles.org
ActivistCash.com (attacks public interest groups, sockpuppet used to give unsubstantiated claims authority)
ActivistFacts.com (site that poses as a charity evaluator in order to smear legitimate groups and promote Berman's own groups)
MaternityPens.com (defends intensive confinement systems/gestation crates)
PetShelterScam.com (claims to be "a group of concerned pet lovers")
Prop65Scam.com (attacks California law requiring labeling of carcinogens)
AnimalScam.com (attacks animal protection charities)
PetaKillsAnimals.com / PetaSavesAnimals.com / PetaUccideAnimali.it / PetaTueAnimaux.fr (attacks PETA)
PetaPetition.com (inactive, attacked PETA)
CSPIScam.com (attacks CSPI)
PhysicianScam.com (attacks PCRM)
PCRMScam.com (attacks PCRM)
CrewExposed.com (attacks CREW)
MadCowScare.com (inactive, downplayed dangers of mad cow disease)
HolyVeal.com (inactive, attacks animal protection groups, downplays cruelty of veal)
FishScam.com (failed project to downplay dangers of mercury in seafood)
TunaScam.com (alias of FishScam.com)
MercuryFacts.com (alias of FishScam.com)
Mercury-Facts.org (inactive)
MercuryScam.com, .org (inactive)
FishTruth.com (inactive)
HowMuchFish.com (skewed mercury "calculator" aimed at persuading pregnant women to consume more mercury-laden fish)
TunaCalculator.com (alias of HowMuchFish.com)
ObesityMyths.com (downplays dangers of high-fructose corn syrup)
ObesityScam.com (downplays dangers of obesity and unhealthy foods)
SweetScam.com (downplays dangers of high fructose corn syrup)
LawsuitAddiction.com (attacked trial lawyers, especially those against trans-fats; now abandoned)
Trans-FatFacts.com (inactive, downplayed dangers of trans-fats)
NannyCulture.com (inactive)
SpicySprouts.com (inactive)
NeoProhibition.com (inactive)
Humane Society for Shelter Pets (HSSP)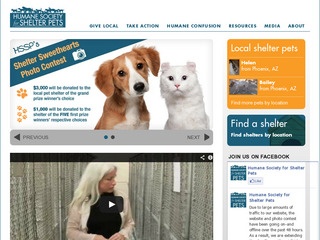 The Humane Society for Shelter Pets is a front group for "supporters of the pet breeding industry", according to its co-founder, Jeff Douglas, who fled the organization shortly after it was launched. It focuses on attacking the HSUS while pretending to be a shelter support charity, yet provides no services or funding to any shelter, anywhere. And despite having no funds to support shelters, it launched with an expensive nationwide print media campaign attacking the HSUS. HSSP asserts that the blatantly biased survey run by Berman and Company under the alias "A/B/See Marketing Research" supports its claims.
Within two weeks of its launch, it became obvious that Berman was behind the group, even if his name was not on the official paperwork. The founders were confronted with angry accusations of being a front-group for an anti-animal PR firm and questions about their funding. Through Berman and Company, the group admitted that Berman was managing their operations, but insisted that the formation of the group was not Berman's idea. Berman claimed "it's not my group." However, documents later revealed that Berman had been pitching the idea — then called the "Humane Society for America's Pets" — to his donors a year earlier. And when HSSP's first Form 990 tax return was filed, it was Berman's address and signature on the form.
The HSSP scam collapsed and filed for dissolution in late 2013, but not before Rick Berman siphoned $768,000.00 in funds away from the group. According to their Form 990 tax returns, not one penny went to any animal shelter or organization.
---
American Beverage Institute (ABI)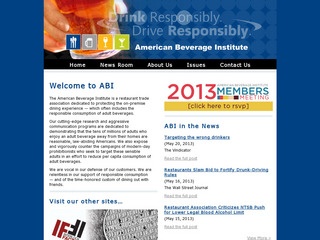 The American Beverage Institute is a 501(c)(6) trade group for the liquor industries, formed in 1991. It opposes stronger penalties for drinking and driving, ignition interlocks for drunk drivers, and sobriety checkpoints. Its primary target is Mothers Against Drunk Driving.
ABIOnline.org
InterlockFacts.com (fights drunk driving penalties)
NoDrinkTax.com (opposes alcohol taxes)
NegligentDriving.com, .org (no connection to ABI disclosed; contact number is BCI; downplays dangers of drunk driving)
TheNewProhibition.com (promotes "health benefits" of alcohol, attacks anti-drunk driving organizations)
---
Employment Policies Institute (EPI)
doing business as: "Citizens for Workplace Democracy"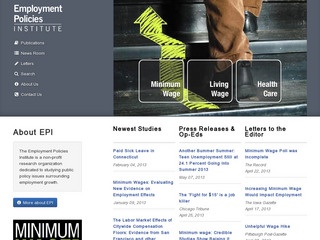 EPI is a conservative, industry-funded group formed in 1994 as a 501(c)(3). EPI fights minimum wage increases and employer-provided health insurance benefits, and targets unions.
EPIOnline.org
Facesof15.com
RottenAcorn.com
DefeatTheDebt.com
BadIdeaCA.com (attacks minimum wage legislation)
TippedWage.com (attacks minimum wage increases for tipped employees)
TeenUnemployment.com
RethinkReform.com (attacks health care reform and minimum wage increases)
LivingWage.org (alias of EPIOnline.org)
MinimumWage.com (attacks minimum wage increases)
GatewayJobs.org (inactive)
LivingWageResearch.com (inactive)
rhodeislandunionfacts.org (inactive)
AlabamaUnionFacts.com (inactive)
TexasUnionFacts.com (inactive)
OregonUnionFacts.com (inactive)
HawaiiUnionFacts.org (inactive)
IowaUnionFacts.org (inactive)
michiganunionfacts.org (inactive)
newjerseyunionfacts.org (inactive)
wisconsinunionfacts.org (inactive)
washingtonunionfacts.org (inactive)
idahounionfacts.org (inactive)
montanaunionfacts.org (inactive)
pennsylvaniaunionfacts.org (inactive)
newyorkunionfacts.org (inactive)
utahunionfacts.org (inactive)
southdakotaunionfacts.org (inactive)
northdakotaunionfacts.org (inactive)
northcarolinaunionfacts.org (inactive)
southcarolinaunionfacts.org (inactive)
newhampshireunionfacts.org (inactive)
newmexicounionfacts.org (inactive)
arizonaunionfacts.org (inactive)
oklahomaunionfacts.org (inactive)
californiaunionfacts.org (inactive)
nevadaunionfacts.org (inactive)
mississippiunionfacts.org (inactive)
missouriunionfacts.org (inactive)
maineunionfacts.org (inactive)
floridaunionfacts.org (inactive)
louisianaunionfacts.org (inactive)
alaskaunionfacts.org (inactive)
coloradounionfacts.org (inactive)
connecticutunionfacts.org (inactive)
illinoisunionfacts.org (inactive)
indianaunionfacts.org (inactive)
kansasunionfacts.org (inactive)
kentuckyunionfacts.org (inactive)
marylandunionfacts.org (inactive)
massachusettsunionfacts.org (inactive)
michiganunionfacts.org (inactive)
minnesotaunionfacts.org (inactive)
nebraskaunionfacts.org (inactive)
ohiounionfacts.org (inactive)
tennesseeunionfacts.org (inactive)
vermontunionfacts.org (inactive)
virginiaunionfacts.org (inactive)
westvirginiaunionfacts.org (inactive)
wyomingunionfacts.org (inactive)
---
Center for Union Facts (CUF)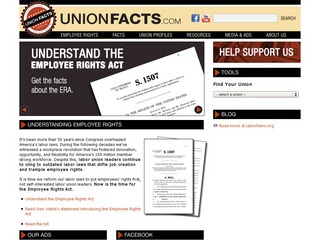 The CUF is a 501(c)(3) that dovetails efforts with EPI. Formed in 1991, it attacks unions — especially teachers unions, which are portrayed as lazy and dishonest — on behalf of a variety of anti-union industries and right-wing groups.
UnionFacts.com
SEIUExposed.org
AFTFacts.com
AskRandiWhy.com (personal attacks on AFT president Randi Weingarten)
TeachersUnionExposed.com
LaborPains.org (described on site as a "joint blog of the Center for Union Facts and EFAC")
WorkerCenters.com
UniteHereExposed.com (anonymously attacks Unite Here)
UFCWExposed.com (alias of UnionFacts.com)
DC Teachers Union Exposed (project of CUF)
ProtectingBadTeachers.com
StepUpWyoming.com
EmployeeRightsAct.com
EmployeeRightsNow.com (inactive)
---
Employee Freedom Action Committee (EFAC)
Founded in 2007 as a 501(c)(4) "social welfare" organization, EFAC claims to "fight for fair elections in the workplace". However, its efforts are geared exclusively to attacking unions. EFAC may be shutting down, as its websites now redirect to UnionFacts.com, Berman's website for the Center for Union Facts.
EmployeeFreedom.com (formerly part of EFAC, now an alias of UnionFacts.com)
---
Partnership on Health Care and Employment
Formed in 1992, now inactive.
---
First Jobs Institute (FJI)
FJI is registered as a 501(c)(6) "social welfare" organization, and provides information for teens and first-time job seekers. With the exception of the Leader Profiles page where you can read an ego piece about Richard Berman's humble beginnings, FJI's content is fairly benign.
FirstJobs.org (claims to be 501(c)(6), no parent affiliation noted)
---
Center for Economic and Entrepreneurial Literacy (CEEL)
CEEL is a minor project of Berman's. It targets teens and young adults with messages of fiscal responsibility, but occasionally provides support for other Berman efforts, e.g., demonizing sustainable and organic farming.
---
Miscellaneous
SunlightScam.com (inactive; downplayed dangers of tanning beds and skin cancer)
IncomeTaxFacts.org (attacks Democratic tax policy)
HandsOff.org (inactive; net neutrality)