On average, people should be more skeptical when they see numbers. They should be more willing to play around with the data themselves.
–Nate Silver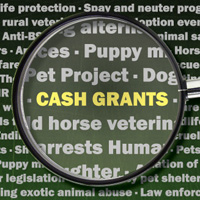 Richard Berman's smear campaigns like the Center for Consumer Freedom and the Center for Union Facts frequently rely on distorted numbers to give their corporate spin the illusion of credibility. In fact, the core of Berman's HumaneWatch campaign is its easily-repeated claim that the Humane Society of the United States gives less than 1% of its funds to pet shelters.
However, when you look beneath the glib summary and examine the numbers yourself, you find that those numbers have been blatantly misrepresented.
In order to reach that figure, HumaneWatch ignores any form of aid other than a hand-out of cash. They exclude grants for animals other than cats or dogs, as if those were the only animals worthy of care. They disregard dozens of animal welfare programs, including shelter and adoption advocacy programs.
To artificially minimize the work of the HSUS, HumaneWatch reduces its program expenses — expenses in excess of one hundred million dollars — to an arbitrary subset of those expenses, the one million dollars in direct cash grants made to dog and cat shelters. And of that amount, they randomly ignore programs vital to saving shelter pets, such as spay/neuter programs, veterinary care assistance, feral cat trap/neuter/return, and pet retention programs.
Despite the availability of HSUS tax returns and program expenses, few people bother to check the numbers for themselves. As a result, the 1% myth is one of Berman's most successful distortions.
Deception and distortions of this kind are one of the primary weapons of Berman's smear campaigns, but they only work when the readers are unfamiliar with Berman's legacy of deceit. That's why we're releasing a series of graphics exposing the unethicals weapon in Berman's arsenal of character assassination. Each graphic in the series will highlight a different deceptive scheme, perfect for reposting under a Berman op-ed, letter to the editor, or in response to a HumaneWatch supporter who may not understand the false nature of that smear campaign.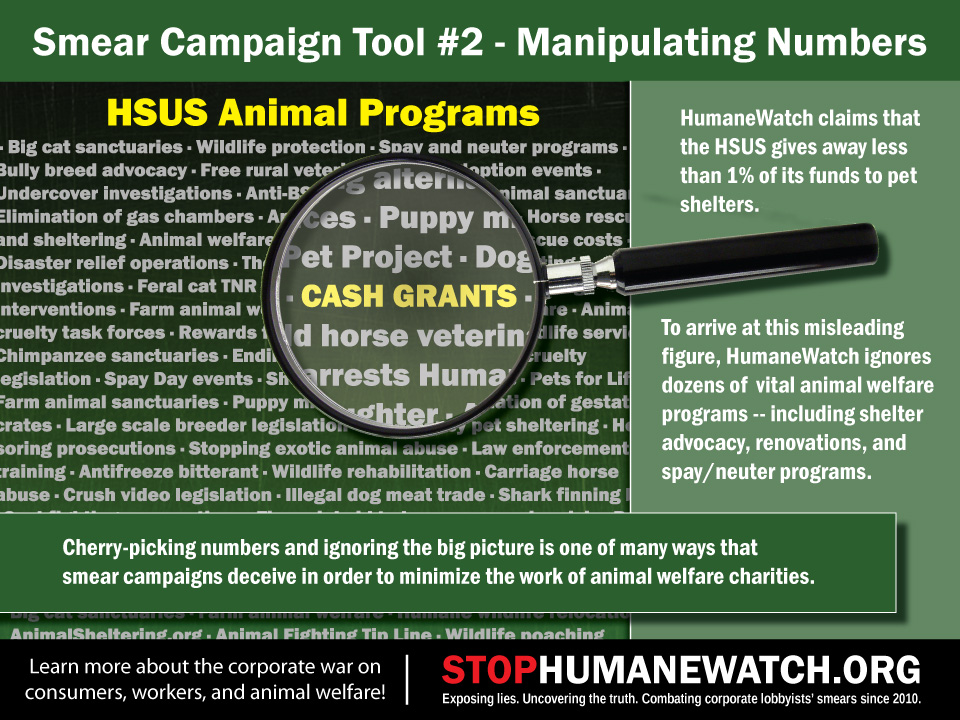 Please feel free to save these graphics to your hard drive, link to them directly on this site, or share on Facebook, Twitter, and Pinterest.
http://www.stophumanewatch.org/blog/manipulation
View and share previous weeks' graphics from our Resources page.